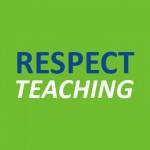 Articles titled "My profession no longer exists"  and "A warning to young people: don't become a teacher" have received a great deal of attention recently.  Clearly, they are resonating with many teachers who seem to agree that the profession is being devalued and demeaned.
What's sad to me is that while I continue to see these articles making the rounds on social media, I don't see many posts or tweets about people who are offering a solution.  Quitting the profession or discouraging others from joining it cannot be the only ways to take action.
It seems to me that in order to really address the issues that those pieces so passionately point at, we need to have collaboration across different groups.  That's why I was happy to learn that the President unveiled a blueprint for the RESPECT initiative today.  I think it is a great example of what is possible when those inside the classroom work together with those outside the classroom.
Although my main interests are research and teaching, I also spent a little bit of time in the policy world.   In 2008, I had the opportunity to be a Teaching Ambassador Fellow for the Department of Education.
It was a transforming experience for me.  I had a chance to be a voice for teachers within the department, learn about policy from those within the department and meet many amazing teachers from across the country.  However, I also became aware of the huge gap that exists between policy makers and teachers.  The fellowship was an attempt to bridge that gap.
The fellowship has continued to evolve since our initial group of fellows began in 2008.   The RESPECT initiative is one of the things that resulted from this continued collaboration between policymakers and teachers.
Fellows led hundreds of conversations across the country with teachers about how they envision transforming the teaching profession.   Input gathered from these interviews was used to help inform the blueprint.  I think it's a great example of the potential that exists when different groups work together.  I hope it can help begin a conversation of how we fix the problem that has so many teachers feeling discouraged about the profession.
I encourage you to go to the educator homepage to check out the resources below and continue the conversation with those around you.