When I do workshops with parents, I often get complaints about why students don't just memorize things.  It's often followed by, "I learned math that way and I'm fine!"
I then ask them to solve a multiplication of fractions problems, say 4/5 x 2/3.  Inevitably, one person will tell me to draw "butterfly wings" and cross multiply. Another will tell me to find a common denominator, multiply the numerators and leave the denominators the same. Eventually, someone will say that you multiply the top and then multiply the bottom.  Don't even ask about what happens when I ask them to explain why that procedure works.
I tell this story because most of us learned multiplication of fractions without any meaning. As a result, if we forget the memorized procedure, we don't know how to reason about it.
I've been using the following type of problem to help learners begin to develop meaning for what it means to multiply a fraction by a fraction.
Ms. Placa made a tray of brownies.  She put icing on two-thirds of the pan.  She then put sprinkles on four-fifths of the brownies that had icing on them.  What fraction of the pan of brownies have sprinkles and icing on them?
Before students begin, I have them estimate whether the answer is going to be bigger or smaller than two-thirds. This leads to an interesting discussion and will help addresses a major misconception later on that students have about multiplication always making things bigger.
Then students draw pictures.  Here's one possible sequence of drawings and student thinking:
1.  I'll draw a pan and shade two-thirds with icing.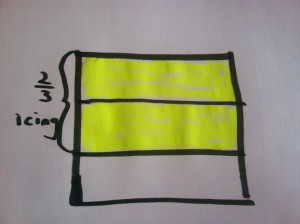 2.  Now I'll cut the iced brownies into fifths and put sprinkles on four-fifths of those.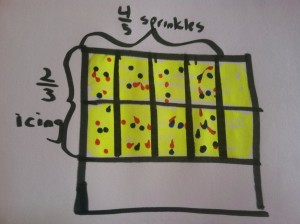 3. Hmmmm, I know I have 8 brownies with sprinkles and icing on them, but what size are they?  I can't tell because all the brownies in the pan aren't the same size. Oh, I have to make some more cuts to have equal sized brownies.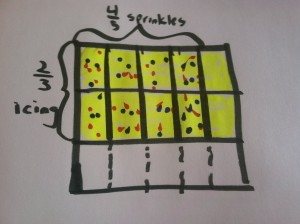 Now I know that the brownies are fifteenths and eight of them have sprinkles and icing on them so eight-fifteenths of the pan are brownies with sprinkles and icing. 
Eventually we can get to writing number sentences and to imagining what would happen with larger numbers. We can then start to generalize what rule would work for multiplying any two fractions. But I think starting with a picture and context provides a nice foundation for starting to think about multiplying fractions.
What are your thoughts?  How do you usually teach students to multiply fractions?
Want to know more?  The study below gives a more detailed progression of how this type of thinking was fostered and some of the background knowledge it requires.
Mack, N. K. (2001). Building on informal knowledge through instruction in a complex content domain: Partitioning, units, and understanding multiplication of fractions. Journal for Research in Mathematics Education, 32(3), 267.